Aunt Flow is committed to ensuring everyone
has access to menstrual products.
Together we can change the world.
Menstrual products are not covered by food stamps or WIC. No one should EVER be forced to choose between food and tampons. That's why we have donated over 128,000 menstrual products to organizations in the USA that support menstruators in need.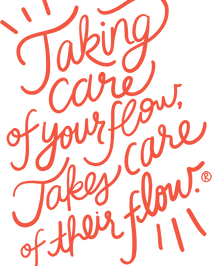 You should know the ingredients in your menstrual products.
Dedication to period positivity requires full transparency. Leading menstrual product brands are not required to disclose their ingredients. They can be bleached with chlorine, and contain synthetics, dyes, and chemicals. Aunt Flow non-applicator tampons are 100% organic cotton.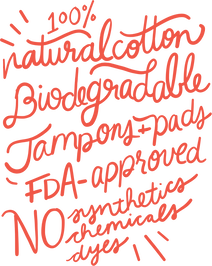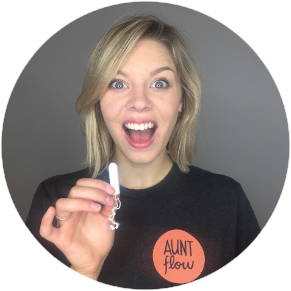 Claire Coder, Founder & CEO
I was at an event in Columbus, Ohio and I got my period. Although beer, ping pong, and lunch were all provided at no-cost, tampons were not freely available in the bathrooms. I was forced to leave the event and miss out on an opportunity.​

This life event triggered me to drop out of college, take on 3 waitressing jobs, and work late into the evenings to launch Aunt Flow - a sustainable solution to ensure EVERYONE has access to menstrual products.

When I am not talking about tampons, you can catch me boxing and jamming out to Macklemore. Fun Facts: I love running, I eat peanut butter out of the jar, I started my first company when I was 16, and I was blind in the 4th grade.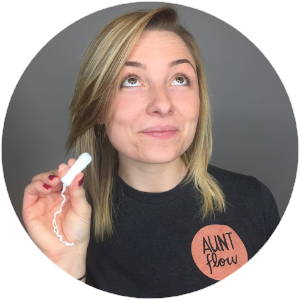 Anne Weigand, Business Development
I had an ovarian cyst at the age of 16. Periods have never been "normal" for me. Thus, I always have a stash of tampons and pads in my bag. I am the gal my friends come to when they are having a period emergency, because I'm sure to have them covered.

Every time a new business starts offering Aunt Flow products, I get excited knowing that my fellow menstruators will not be frantically calling a friend for a tampon.

When I am not on the phone with businesses explaining the value of free menstrual products for their employees, I can be found going for a run, walking at the park with my dog Bentley, enjoying a crafty beer around town, and changing the world, one cycle at a time.